Naked Empire Bouffon Company


Brown Paper Tickets Ticket Widget Loading…

Click Here to visit the Brown Paper Tickets event page.
Donate Now
Your donations help us take this work on the road, and it's 100% tax-deductible.
Go Now!
Join Our Mailing List
Please join our mailing list to keep updated on all that we are doing. Come on, you know you're curious!
Go Now!
Train With Us
The SF Bay Guardian lists us as a Go To source of training to keep actors and audiences on their toes.  Click the button for the article, or scroll down for details.
Go Now!
For a good time, call...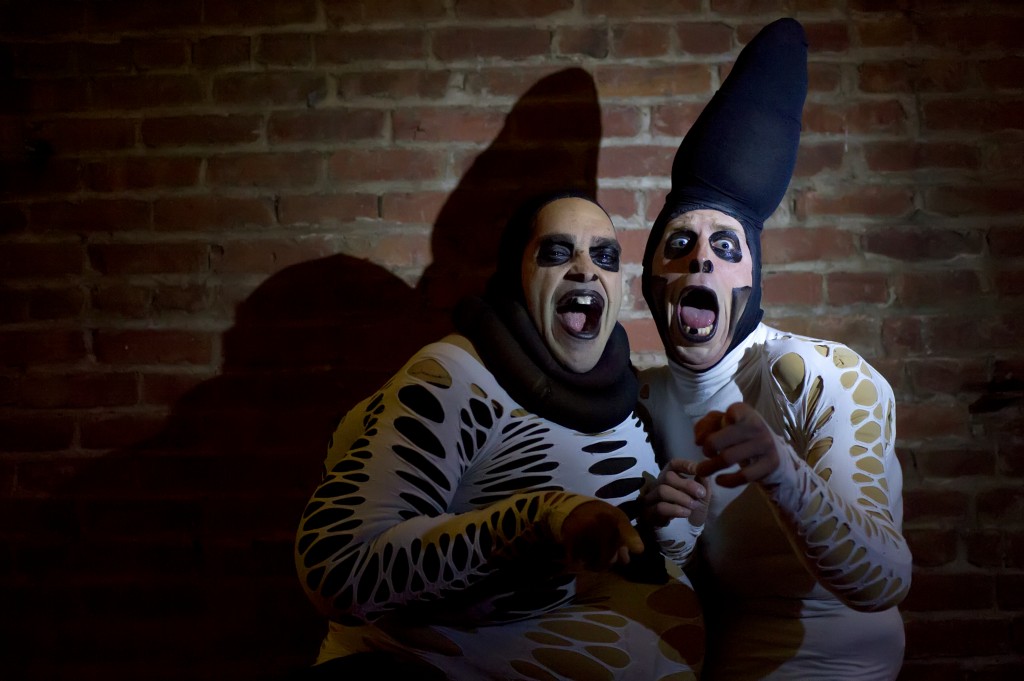 Naked Empire Bouffon Company is dedicated to researching, expanding, and popularizing bouffon through training and performance both locally and internationally.
We use grotesque satire to unveil social blind spots.  We work to make you laugh so hard at your shame that you bust a bunch of big farts under the blanket of your apathy forcing you to come up for air and talk about what you smelled.  You're welcome.
Few people in the mainstream public have heard the term 'bouffon', but you know it when you see it.  Based in satire and physical comedy you can see it in the work of Sacha Baron Cohen of Borat and Bruno fame.  You see it in the Tony Award winning work of Trey Parker and Matt Stone via South Park, Team America, or Book of Mormon.  You see it in the artistry of Maurizio Cattelan or in the headlines of The Onion.
Beyond the research Naked Empire has done since 2009, this work owes much of its existence to a venerable lineage of performance research and practice.  Most notably, the work of Master Teacher Giovanni Fusetti, who introduced company members, Nathaniel Justiniano and Ross Travis to this realm of performance during their training at Dell'Arte International School of Physical Theatre and at the Boulder Circus Center, respectively.  While we are the only company in the United States exclusively dedicated to the research and performance of bouffon, we are certainly not alone.  We are working to share knowledge, grow the field, build community, and continue the research into what bouffon is and can be.
Are you a creator of bouffon work?  We'd love to know you and start by listing a link to your website and work here.  Drop us a line at: info@nakedempirebouffon.org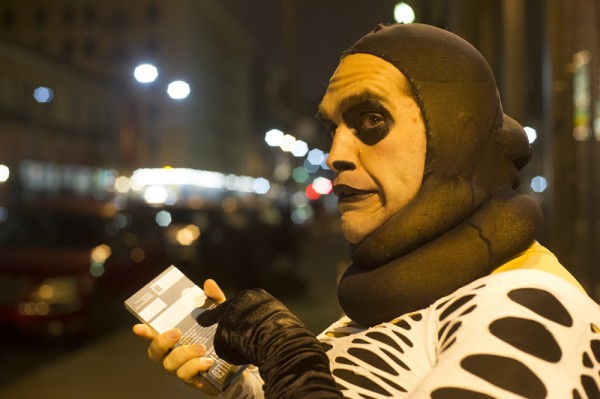 Nathaniel Justiniano (Founder, Artistic Director) is a professional actor/creator and director.  In 2007, under the direction of Master Teacher Giovanni Fusetti, he co-created Pax Americana, a satire of war as seen through the lens of United States history and EUOI!, a bouffon experiment in ecstatic ritual, inspired by the research of anthropologist, Barbara Ehrenreich.  He has performed with The Thrillpeddlers in their mega-hit, Pearls Over Shanghai, as well as with WE Players in their epic, 5-hour, island-wide production of The Odyssey on Angel Island.  He joined the SF Buffoons in their 2008 productions of The Hasheesh Eater and their premiere of Spunk, a satire of gold rush-era San Francisco.  In 2009 he led the creation of Naked Empire's debut production, Shame! as a DIY Artist-in-Residence at Mama Calizo's Voice Factory, formerly one of San Francisco's most popular centers for queer and activist performance.  His one-man show, Cousin Cruelty's Compulsion, addresses the use of institutional violence in society and was one of the offerings in the 2011 International Home Theatre Festival, as well as the subject of a feature column in the San Francisco Bay Guardian.  Most recently, he co-created and performed in You Killed Hamlet, or Guilty Creatures Sitting At A Play, a satire about avoiding death which won critical acclaim and the San Francisco Best of the Fringe Award. He teaches workshops nation-wide in bouffon for which he was honored with the SF Bay Guardian's BEST OF THE BAY AWARD for BEST ROMP WITH YOUR INNER PSYCHOPATH.  He has served as the Director of Physical Comedy for the Sacramento Shakespeare Festival, and guest teacher of physical theatre at Sacramento City College and Kinetic Arts Center of Oakland. He is currently a senior faculty member of the new Clown Conservatory program at the San Francisco Circus Center where he teaches clown, games, status, mask performance and is the director of the spring Bouffon Intensives. He has also been a professional community organizer and educator for LGBT youth empowerment programs for Childrens Hospital Los Angeles and the LA Gay & Lesbian Center, as well as a program manager for community-based theatre initiatives out of the National Conference for Community & Justice and Cornerstone Theater Company.  He holds a BFA in Theatre Performance from Chapman University and an MFA in Ensemble-Based Physical Theatre from Dell'Arte International School of Physical Theatre.
nathaniel@nakedempirebouffon.org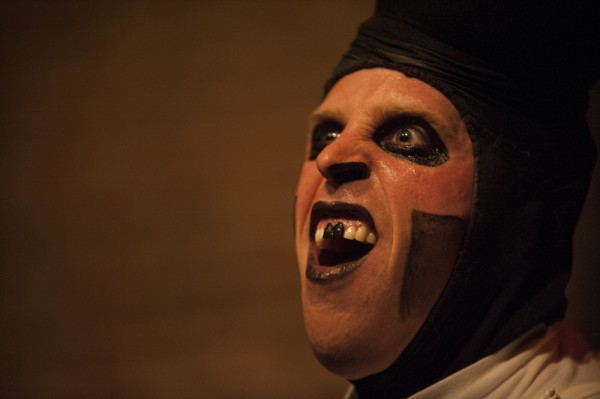 Ross Travis (Artistic Associate) has been a professional Actor, Bouffon, Clown and Circus Performer for the last 7 years. Before moving to California Ross worked professionally in Chicago for three years for Redmoon and Eclipse Theatre Company. In 2010 he took a Bouffon Intensive with Master Teacher Dodi DiSanto in Washington DC and went on to study the form in greater depth with Master Teacher Giovanni Fusetti in Boulder, Colorado that same year. This is where he developed what became his first solo bouffon show, Apocalyptika, a satirical romp that takes a sledgehammer to the convenient stories we tell ourselves about how our world will end.  The first full-length version of Apocalyptika was performed in the International Home Theatre Festival in March of 2011 and was featured in Nicole Gluckstern's column, The Performant, in the San Francisco Bay Guardian. In San Francisco he has worked extensively with the site specific classical company We Players. Ross played Guildenstern and Marcellus in their critically-acclaimed production of Hamlet on Alcatraz. He also played multiple roles in their production of Odyssey on the Alma. The Alma is one of the historic boats in Maritime Park. Ross' characterization of Cyklops was hailed by SF Weekly as "a comic marvel." Ross did a 40 show school tour in Alameda County of Mulchini's Kitchen, a play about recycling with the New Pickle Circus and recently played multiple roles, including The Incurable Disease, in Taylor Mac's epic 5-hour spectacle, The Lily's Revenge at the Magic Theatre. He holds a BFA in Performing Arts from Savannah College of Art & Design, and is a graduate of the Professional Training Program at Dell'Arte International School of Physical Theatre, as well as the Professional Acrobatic Program at the San Francisco Circus Center.
ross@nakedempirebouffon.org
The community of bouffon makers is growing
If you create or teach bouffon we'd love to add you to this page
Donate Today
Rewards rock! Donate and we'll send you gratitude in one of the following ways.
 Party Pooper $1,000 or more
Your reward:  We'll create and send you an original five minute short film mocking someone you know as a Birthday Gift to that person sometime in 2013.  A grotesquely hilarious personalized birthday roast. Now that's love.
I'M A PARTY POOPER
Every year over 130,000 Canadians wake up optimistic, excited by a new day and the chance to see amazing new theatre.  Your donation today will help slap some sense into them.
"Did you say I get to slap a Canadian?  Let me donate this second!"  DONATE!
You Killed Hamlet, or Guilty Creatures Sitting At A Play, our Best of the SF Fringe-winning production, has been accepted to two of the biggest theatre festivals in Canada: Edmonton Fringe and Vancouver Fringe.
"Wow.  Congratulations!  Here's some cash to make sure you have enough gas to get there."  DONATE!
If you saw us in September, then you know that thousands of polite, warmhearted Canadians will finally feel the cold, hard sting of reality as our show celebrates everyone's favorite topic: avoiding death.
"Holy crap, I've never seen a Canadian cry.  Here, take this donation now!"  DONATE!
If you didn't catch our show, we invite you to join us this summer in Edmonton (Aug 15 – 25) and Vancouver (Sep 5 – 15).
"Are you kidding me?  I ain't going up to Canada to see theatre!  You crazy?  But here's a chunk of change.  Tell em I sent ya."  DONATE!
Look, we know you receive a lot of end-of-year requests from worthy causes competing for your donation.  But this isn't a competition.  It's the holidays.  A time of celebrating the age old traditions of dysfunction, passive aggression, consumerism, and gluttony.  And research shows that Naked Empire Bouffon Company is the nation's (and soon to be the world's) leading pioneer of celebrating our shared traditions and values.
"My god.  I almost clicked 'submit' on this Newtown Memorial Fund website.  What was I thinking?  I'd get so much more bang for my buck by funding Naked Empire's tour right now."  DONATE!
Gratefully and humbly yours,
Naked Empire Bouffon Company
In this town, the only things cooler than donations are Apple products.  To commemorate the status you sacrificed by donating to us, we honor you with the name of an Apple product of the same value as your gift.
Mac Pro: 12-core Intel Xeon processor, Radeon HD graphics, Two 18x Turbo Boost SuperDrives, Quad-channel 4Gb Fibre Channel PCI Express Card, Apple Magic Mouse & Magic Trackpad, Apple Wireless Keyboard, Apple LED 27" flat panel Cinema Display, AppleCare Protection Plan, and One to One Membership…with free shipping. $15,793.97 or more.
Not one of you.
Macbook Air $1,000 or more
Yampa Valley Community Foundation 
San Francisco Arts Commission
16GB iPad with Retina Display $500 or more
Michael Hoch
The Agarwal Family
Center for Cultural Innovation
Apple TV $100 or more
Steven & Kristine Klein
 Jesse Travis
Judith Travis
iPod Shuffle $50 or more

Will Howard
Lauren & Matt Chavez
Carl Luciana 
Su-Fei Kuok
Tessa White
Doug Henderson
Joe Krienke
iCloud Service $25 or more
Norah Sadava
Paul Cello
Reuben Alvear II
Kathryn Zdan
Adam Sussman
Jessica Gleason
Eric Wertz
Alissa Mortenson
Emily Rosenthal
Kate Braidwood Phoenix
Gabriel McKinney
Benjamin Ruhren
Richard Goldberg
An hour to full day's wages with overtime at the Chinese factory $1.50 – $24.99
Julie Douglas
Eleanor Beh
JJ DiUbaldi
Rebecca Longworth
Philip Huang
Zuzka Sabata
Michael Raimondi
Nicholette Routhier
Juliana Frick
Estela Garcia
Emily Goulding
Adriana Chavez
Sarah Passemar
Travis Stevens
Practice the work. Push boundaries. Pioneer.

Bouffon is an under-researched, and under-performed realm of satiric theatre loosely codified by the French theatre provocateur, Jacques Lecoq, who labeled  it the broadest form of theatre.  According to Lecoq's former colleague and our mentor, Giovanni Fusetti, there is much more to explore and discover about what bouffon work can entail.  We invite you to join us in our ongoing exploration through our intensives, drop-in classes, or through our comprehensive training in collaboration with Circus Center San Francisco.
The Intensive
"This weekend was such an incredible experience. Moments keep replaying in my head…the cry laughing, the uncomfortable laughing, the camaraderie, the aching pain in my quads…you really brought us a treat, a special nugget of an out of body experience wrapped neatly in a weekend workshop (and ace bandages). With every layer I peeled away, I realized more and more how important your lessons are to my every day living. I was looking into the world with my new bouffon glasses…I want to just tear into it like a hungry beast. So, now you have planted a seed. Thank you for allowing us the safe space to discover." -Actress, Jessi Just
Recently awarded BEST OF THE BAY, Artistic Director, Nathaniel Justiniano, offers a 20-hour intensive introducing students to bouffon. Topics covered include finding your personal bouffon, creating within a state of ecstatic play, choral and movement-based improvization, mercurial and shape-shifting acting techniques, audacious status play with the audience, parodying social maladies and hypocrisies, and ramshackle techniques for on-the-fly costume creation. If you would like us to bring our intensive to your town, company, or school, contact us.
The Intro-to-Bouffon and Deeper Bouffon Workshops
"Nathaniel creates a deviously fun and supportive environment to explore our deepest fears and insecurities while laughing at them. His class isn't merely about gaining new physical theater skills, it's about the nature of comedy and perception." -Actor/Director, Adam Sussman
Upon demand, we hold 4-week Introductory and Deeper Bouffon workshops.  Two-hour classes one weeknight a week for a total of eight hours of training.  Discounted for new students at $60, $80 for returning students. 
Comprehensive Bouffon Training at the Clown Conservatory of Circus Center SF
Naked Empire Bouffon Company is collaborating with the newly designed Clown Conservatory, a program of Circus Center San Francisco.  With over 5-weeks of training exclusively dedicated to bouffon, this program offers one of the most comprehensive bouffon training programs in the world.  The bouffon training is led by Artistic Director, Nathaniel Justiniano, and is taught along with a dynamic and contemporary training in Commedia Dell'Arte led by world-class performer/instructors, Joe Dieffenbacher and Dan Griffiths.  Click here for more information and to apply.
Our freakdom caught on film
Click the magnifying glasses to reveal multiple videos within each window.