Naked Empire Bouffon Company
You Killed Hamlet
or Guilty Creatures Sitting At A Play
You Killed Hamlet hits Montreal's Mainline Theatre for FOUR NIGHTS ONLY &
we're bringing our award-winning BOUFFON INTENSIVE with us!
PERFORMANCES – NOVEMBER 14 – 17
WORKSHOP – NOVEMBER 16 & 17
TWO PROPHETIC PRANKSTERS play some disturbing games inspired by Hamlet's central theme: Coping with death.  Shreds, a grotesquely emaciated freak, and Patches, a 350-pound jiggling juggernaut are linked by a state of infinite jest and interweave ecstatic ritual, parody, poetry, song, and extreme physical comedy into a fun-house mirror of the audience. Guerrilla/gorilla warfare, convalescent homes, school shootings, crying mothers, theatre audiences, religion, anti-depressants, avant-garde performance, medical research, and yes, Shakespeare's Hamlet all get a proper skewering in this evening of high-impact satirical sport. Scroll down to find reviews, a press page with downloadable images and press releases, and more.

CHECK OUT OUR TRAILER BELOW

Someone let us on live radio.
Gregory Scharpen: Class Act. Nathaniel & Ross: Pretentious schmucks.

"Naked Empire Bouffon Company deliver the goods in unexpected ways in You Killed Hamlet, or Guilty Creatures Sitting At A Play. It's vile and provocative, but it's also a very sly, smart commentary on a culture busily amusing itself as it slides off this mortal coil, too afraid to talk about serious things, and too busy dumbing itself down."
"Their acutely confrontational performance style makes the San Francisco Mime Troupe look like a bunch of old biddies gathering for afternoon tea. Nothing — neither death nor Hamlet — is sacred.  It soon becomes apparent that Shreds and Patches may very well be the bastard love children of Beavis and Butt-head and Patsy and Edina (from Absolutely Fabulous). Highly recommended."
"The excellence of the piece lies in the [Bouffons'] ability to bring the high falutin subject matter down to its knees, only to raise it up again, somehow more reverently than ever before."
-Stuart Bousel, Co-founder of San Francisco Theater Pub and his very own line of annual theater awards, or Stueys.  We won BEST FUSION THEATER PIECE.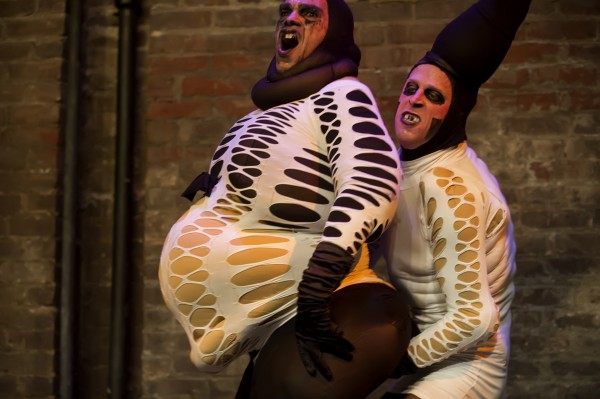 For a good time, call...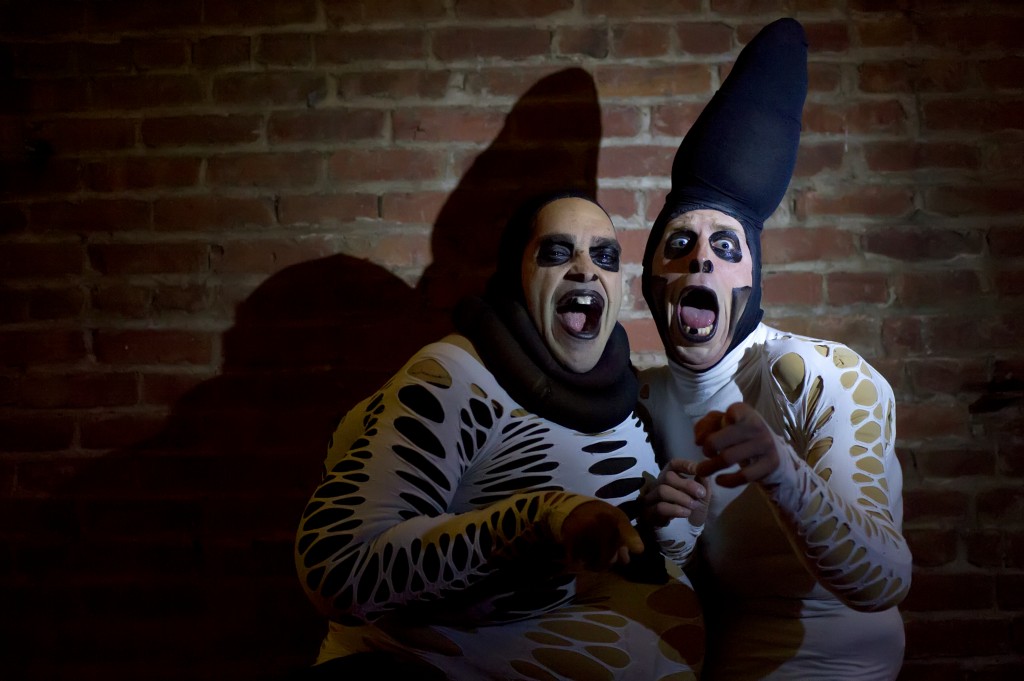 NAKED EMPIRE BOUFFON COMPANY is dedicated to researching, expanding, and popularizing bouffon through training and performance both locally and internationally.
OUR GOAL is to create events that get people talking about things that matter, with an emphasis on the stuff we're all avoiding.  
WE HATE didacticism, judgment, and seriousness.  
Instead, WE CELEBRATE shame and play irreverently with difficult truths.
WE DISTILL human nastiness into moments of grotesque and prophetic physical poetry designed to be both painful and hilarious.  
WE INVITE spectators to join us in cutting through all of our collective bullshit and having a blast at the same time.
Few people in the mainstream public have heard the term "bouffon", but you know it when you see it.  Based in satire and physical comedy you can see it in the work of Sacha Baron Cohen of Borat and Bruno fame.  You see it in the Tony Award winning work of Trey Parker and Matt Stone via South Park, Team America, or Book of Mormon.  You see it in the artistry of Maurizio Cattelan or in the headlines of The Onion.
Beyond the research Naked Empire has done since 2009, this work owes much of its existence to a venerable lineage of performance research and practice.  Most notably, the work of Master Teacher Giovanni Fusetti, who introduced Artistic Director, Nathaniel Justiniano to this realm of performance during his training at Dell'Arte International School of Physical Theatre.

To our knowledge, we're the only company in the United States exclusively dedicated to the research and performance of bouffon, but every year more practitioners who teach and create bouffon are making themselves known.  We are working to share knowledge, grow the field, build community, and continue the research into what bouffon is and can be.
Are you a teacher or creator of bouffon work?  We'd love to know you and start by listing a link to your website and work here. 
Drop us a line at: info [at] nakedempirebouffon [dot] org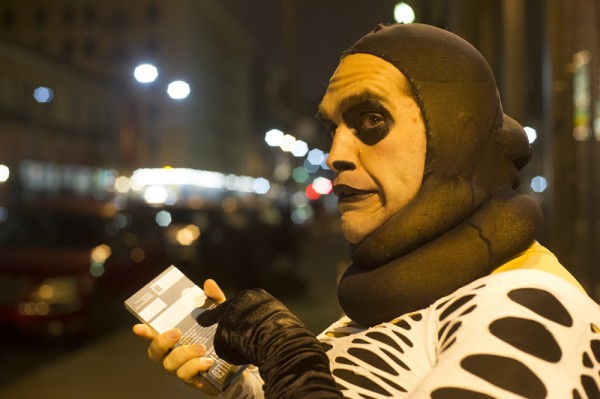 Nathaniel Justiniano (Founder, Artistic Director) is a professional actor/creator and director.  In 2007, under the direction of Master Teacher Giovanni Fusetti, he co-created Pax Americana, a satire of war as seen through the lens of United States history and EUOI!, a bouffon experiment in ecstatic ritual, inspired by the research of anthropologist, Barbara Ehrenreich.  He has performed with The Thrillpeddlers in their mega-hit, Pearls Over Shanghai, as well as with WE Players in their epic, 5-hour, island-wide production of The Odyssey on Angel Island.  He joined the SF Buffoons in their 2008 productions of The Hasheesh Eater and their premiere of Spunk, a satire of gold rush-era San Francisco.  In 2009 he led the creation of Naked Empire's debut production, Shame! as a DIY Artist-in-Residence at Mama Calizo's Voice Factory, formerly one of San Francisco's most popular centers for queer and activist performance.  His one-man show, Cousin Cruelty's Compulsion, addresses the use of institutional violence in society and was one of the offerings in the 2011 International Home Theatre Festival, as well as the subject of a feature column in the San Francisco Bay Guardian.  Most recently, he co-created and performed in You Killed Hamlet, or Guilty Creatures Sitting At A Play, a satire about avoiding death which won critical acclaim, the San Francisco Best of the Fringe Award, the Vancouver/Plank Magazine Talk of the Fringe Award, a nomination for Vancouver's Georgia Straight Critic's Pick Award, and was an Official Selection of the Toronto Festival of Clowns. He teaches workshops nation-wide in bouffon for which he was honored with the SF Bay Guardian's BEST OF THE BAY AWARD for BEST ROMP WITH YOUR INNER PSYCHOPATH.  He has served as the Director of Physical Comedy for the Sacramento Shakespeare Festival, and guest teacher of physical theatre at Sacramento City College and Kinetic Arts Center of Oakland. He is currently a senior faculty member of the new Clown Conservatory program at the San Francisco Circus Center where he teaches clown, games, status, mask performance and was the director of this year's 7-week Bouffon Intensive, the most comprehensive bouffon training ever offered in the United States. He has also been a professional community organizer and educator for LGBT youth empowerment programs for Childrens Hospital Los Angeles and the LA Gay & Lesbian Center, as well as a program manager for community-based theatre initiatives out of the National Conference for Community & Justice and Cornerstone Theater Company.  He holds a BFA in Theatre Performance from Chapman University and an MFA in Ensemble-Based Physical Theatre from Dell'Arte International School of Physical Theatre.
nathaniel [at] nakedempirebouffon [dot] org
The community of bouffon makers is growing
If you create or teach bouffon we'd love to add you to this page
Our freakdom caught on film
Click the magnifying glasses to reveal multiple videos within each window.
Practice the work. Push boundaries. Pioneer.

Bouffon is an under-researched, and under-performed realm of satiric theatre loosely codified by the French theatre provocateur, Jacques Lecoq, who labeled  it the broadest form of theatre.  According to Lecoq's former colleague and our mentor, Giovanni Fusetti, there is much more to explore and discover about what bouffon work can entail.  We invite you to join us in our ongoing exploration through our intensives, drop-in classes, or through our comprehensive training in collaboration with Circus Center San Francisco.
The Intensive
"This weekend was such an incredible experience. Moments keep replaying in my head…the cry laughing, the uncomfortable laughing, the camaraderie, the aching pain in my quads…you really brought us a treat, a special nugget of an out of body experience wrapped neatly in a weekend workshop (and ace bandages). With every layer I peeled away, I realized more and more how important your lessons are to my every day living. I was looking into the world with my new bouffon glasses…I want to just tear into it like a hungry beast. So, now you have planted a seed. Thank you for allowing us the safe space to discover." -Actress, Jessi Just
Recently awarded BEST OF THE BAY, Artistic Director, Nathaniel Justiniano, offers a 20-hour intensive introducing students to bouffon. Topics covered include finding your personal bouffon, creating within a state of ecstatic play, choral and movement-based improvization, mercurial and shape-shifting acting techniques, audacious status play with the audience, parodying social maladies and hypocrisies, and ramshackle techniques for on-the-fly costume creation. If you would like us to bring our intensive to your town, company, or school, contact us.
The Intro-to-Bouffon and Deeper Bouffon Workshops
"Nathaniel creates a deviously fun and supportive environment to explore our deepest fears and insecurities while laughing at them. His class isn't merely about gaining new physical theater skills, it's about the nature of comedy and perception." -Actor/Director, Adam Sussman
Upon demand, we hold 4-week Introductory and Deeper Bouffon workshops.  Two-hour classes one weeknight a week for a total of eight hours of training.  Discounted for new students at $60, $80 for returning students. 
Donate Today
Rewards rock! Donate and we'll send you gratitude in one of the following ways.
 Party Pooper $1,000 or more
Your reward:  We'll create and send you an original five minute short film mocking someone you know as a Birthday Gift to that person sometime in 2013.  A grotesquely hilarious personalized birthday roast. Now that's love.
I'M A PARTY POOPER
Every year over 130,000 Canadians wake up optimistic, excited by a new day and the chance to see amazing new theatre.  Your donation today will help slap some sense into them.
"Did you say I get to slap a Canadian?  Let me donate this second!"  DONATE!
You Killed Hamlet, or Guilty Creatures Sitting At A Play, our Best of the SF Fringe-winning production, has been accepted to two of the biggest theatre festivals in Canada: Edmonton Fringe and Vancouver Fringe.
"Wow.  Congratulations!  Here's some cash to make sure you have enough gas to get there."  DONATE!
If you saw us in September, then you know that thousands of polite, warmhearted Canadians will finally feel the cold, hard sting of reality as our show celebrates everyone's favorite topic: avoiding death.
"Holy crap, I've never seen a Canadian cry.  Here, take this donation now!"  DONATE!
If you didn't catch our show, we invite you to join us this summer in Edmonton (Aug 15 – 25) and Vancouver (Sep 5 – 15).
"Are you kidding me?  I ain't going up to Canada to see theatre!  You crazy?  But here's a chunk of change.  Tell em I sent ya."  DONATE!
Look, we know you receive a lot of end-of-year requests from worthy causes competing for your donation.  But this isn't a competition.  It's the holidays.  A time of celebrating the age old traditions of dysfunction, passive aggression, consumerism, and gluttony.  And research shows that Naked Empire Bouffon Company is the nation's (and soon to be the world's) leading pioneer of celebrating our shared traditions and values.
"My god.  I almost clicked 'submit' on this Newtown Memorial Fund website.  What was I thinking?  I'd get so much more bang for my buck by funding Naked Empire's tour right now."  DONATE!
Gratefully and humbly yours,
Naked Empire Bouffon Company
In this town, the only things cooler than donations are Apple products.  To commemorate the status you sacrificed by donating to us, we honor you with the name of an Apple product of the same value as your gift.
Mac Pro: 12-core Intel Xeon processor, Radeon HD graphics, Two 18x Turbo Boost SuperDrives, Quad-channel 4Gb Fibre Channel PCI Express Card, Apple Magic Mouse & Magic Trackpad, Apple Wireless Keyboard, Apple LED 27" flat panel Cinema Display, AppleCare Protection Plan, and One to One Membership…with free shipping. $15,793.97 or more.
Not one of you.
Macbook Air $1,000 or more
Yampa Valley Community Foundation 
San Francisco Arts Commission
16GB iPad with Retina Display $500 or more
Michael Hoch
The Agarwal Family
Center for Cultural Innovation
Apple TV $100 or more
Ryan Johnston
Steven & Kristine Klein
Jesse Travis
Judith Travis
iPod Shuffle $50 or more

Libby Oberlin
Will Howard
Lauren & Matt Chavez
Carl Luciana 
Su-Fei Kuok
Tessa White
Doug Henderson
Joe Krienke
iCloud Service $25 or more
Megan Fitzgibbons
David Donovan
Maria Martin
Ava Roy
Maria Leigh
Frieda de Lackner
Sam Bertken
Norah Sadava
Paul Cello
Reuben Alvear II
Kathryn Zdan
Adam Sussman
Jessica Gleason
Eric Wertz
Alissa Mortenson
Emily Rosenthal
Kate Braidwood Phoenix
Gabriel McKinney
Benjamin Ruhren
Richard Goldberg
An hour to full day's wages with overtime at the Chinese factory $1.50 – $24.99
Daniel Bakken
Nicholas Blumm
Emma Jaster
Lucy Tafler
Ali Hanson
Hannah Gaff
Megan Finlay
Julie Douglas
Eleanor Beh
JJ DiUbaldi
Rebecca Longworth
Philip Huang
Zuzka Sabata
Michael Raimondi
Nicholette Routhier
Juliana Frick
Estela Garcia
Emily Goulding
Adriana Chavez
Sarah Passemar
Travis Stevens
Contact
Send us a message:
Naked Empire Bouffon Company 915 Cayuga Ave. San Francisco, CA 94112   Email us: info [at] nakedempirebouffon [dot] org