You Killed Hamlet, or Guilty Creatures Sitting At A Play
Plays ONE NIGHT ONLY at the Main Street Theatre
Friday, May 24th, 8pm.
Award-winning Naked Empire Bouffon Company
ignores death so much better than you.
You Killed Hamlet, or Guilty Creatures Sitting At A Play. Naked Empire Bouffon Company joins the International Home Theatre Festival with a funnier, more outrageous version of their Best of the Fringe-winning hit show. The prophetic pranksters, Shreds & Patches, become a funhouse mirror of your discomfort with mortality for one night only before taking their grotesque shenanigans on tour to three Canadian theatre festivals this summer.
When: Friday, May 24th 8pm
Where: Main Street Theatre, 915 Cayuga Ave, San Francisco
Tickets: $15 – $25. http://youkilledhamlet.brownpapertickets.com
San Francisco, May 1st, 2013. Naked Empire Bouffon Company proudly presents the return of their hit show, You Killed Hamlet, or Guilty Creatures Sitting At A Play at the Main Street Theatre.  A participant in the International Home Theatre Festival, this original production features two grotesque anti-clowns mocking your relationship with death and its most famous messenger, Hamlet.  Improvisation and audience participation feature prominently in the show as these two prophetic pranksters enter with the dead body of Hamlet and use it to play a disturbingly hilarious set of games based on one theme: denying mortality.  No prior knowledge of Shakespeare's Hamlet necessary.  Simply bring your deep discomfort with dying and prepare for a 60-minute death match.
"They don't judge you, they just love to play," explains Artistic Director, Nathaniel Justiniano, "and their favorite sport uses your shame and fear like a baseball and bat." Based in the comically aggressive European physical theatre tradition of bouffon, You Killed Hamlet features two performers, Ross Travis and Nathaniel Justiniano. Their characters, a grotesquely emaciated freak (Travis as Shreds) alongside a 350-pound jiggling juggernaut (Justiniano as Patches) interweave ecstatic ritual, parody, poetry, song, extreme physical comedy, and a no-holds-barred relationship with the audience to create an evening of satirical sport with piercing honesty.
"Naked Empire Bouffon Company deliver the goods in unexpected ways. It's vile and provocative, but it's also a very sly, smart commentary on a culture busily amusing itself as it slides off this mortal coil, too afraid to talk about serious things, and too busy dumbing itself down."
-John Marcher, Beast In The Jungle
You Killed Hamlet premiered at the 2012 San Francisco Fringe Festival and was honored with two sold-out awards, a Best of the Fringe award, and an encore performance.  After inviting feedback from veteran Bay Area directors and performers including Stephen Buescher, Paoli Lacy, Joe Dieffenbacher, Leonard Pitt, and Ava Roy, they returned to the rehearsal room. After three months of reworking the content Naked Empire presents a version that is more acrobatic, more poetic, containing sharper satire and more audience interaction than before.
"…their acutely confrontational performance style makes the San Francisco Mime Troupe look like a bunch of old biddies gathering for afternoon tea."
-George Heymont, Huffington Post
Naked Empire Bouffon Company is a performance ensemble dedicated to researching, practicing, and popularizing bouffon through training and performance both locally and internationally.  Recently awarded the SF Bay Guardian's Best of the Bay Award for Best Romp With Your Inner Psychopath, the company aims to undermine apathy and inspire discourse with the use of disturbing hilarity and grotesque satire.  The original production, generously funded in part by the San Francisco Arts Commission Cultural Equity Grant, marked the company's most ambitious project to date.  The two co-creators/performers used Shakespeare's most famous play and their personal experience (both performers have tragically lost a parent in recent years) as a springboard for seven months of research on the complex relationship contemporary society has with mortality.  Content for the show was then developed through extensive improvisations where the bouffons were given free rein to exploit and exaggerate our darkest and most dysfunctional habits when we are confronted with death.
"…the excellence of the piece lies in the [Bouffons'] ability to bring the high falutin subject matter down to its knees, only to raise it up again, somehow more reverently than ever before."
-Stuart Bousel, Co-founder of San Francisco Theater Pub
2013 Tour dates also include May 31 – June 2 at the Toronto Festival of Clowns, August 15 – 25 at the Edmonton Fringe Festival, and September 5 – 15 at the Vancouver Fringe Festival.
For More Information Contact:
Nathaniel Justiniano
(415) 494-9299
nathaniel@nakedempirebouffon.org
###
Media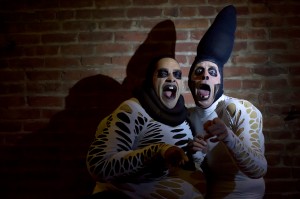 "Nathaniel Justiniano and Ross Travis in  Naked Empire Bouffon Company's You Killed Hamlet, or Guilty Creatures Sitting At A Play. "
Nathaniel Justiniano, Ross Travis
Photo: Shootthatklown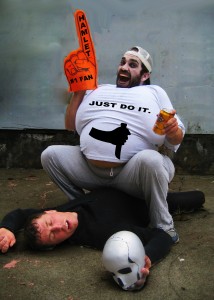 "Ross Travis and Nathaniel Justiniano in  Naked Empire Bouffon Company's You Killed Hamlet, or Guilty Creatures Sitting At A Play. "
Ross Travis (L), Nathaniel Justiniano
Photo: Patrick Zuercher
Download High Res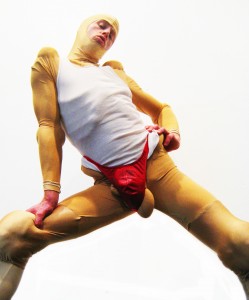 "Ross Travis as Shreds in Naked Empire Bouffon Company's You Killed Hamlet, or Guilty Creatures Sitting At A Play. "
Ross Travis
Photo: Nathaniel Justiniano 

Download High Res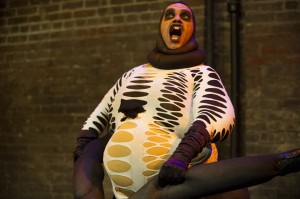 "Nathaniel Justiniano as Patches in Naked Empire Bouffon Company's You Killed Hamlet, or Guilty Creatures Sitting At A Play"
Nathaniel Justiniano
Photo: Shootthatklown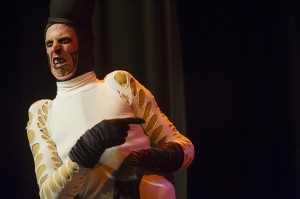 "Ross Travis as Shreds in Naked Empire Bouffon Company's You Killed Hamlet, or Guilty Creatures Sitting At A Play"
Ross Travis
Photo: Shootthatklown
«