AUDREY CRABTREE is an instructor and award winning creator, performer and producer of original work. Since 1992 Audrey has been teaching professional theater practitioners in universities, theatres and studios. Her original collaborative work has won a Drama Desk Award, a NY Innovative Theater Award, Best Comedy in San Francisco Fringe Festival, and the Spanish language HOLA and ATI Awards.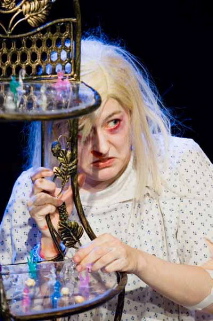 She is a director/founder of the NY Clown Theatre Festival, Co-artistic director of Ten Directions along with Lynn Berg, creating over 13 original productions including the acclaimed Bouffon Glass Menajoree. Her bouffon, Graspy McTakeItAll, was originally commissioned for the International Globesity Festival and now performs variety programs in NYC and the plays Detritus and Robert Honeywell's Lord Oxford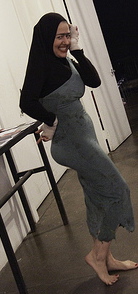 She has written and performed parody with NPR, Minnesota Public Radio, political and social humor Brave New Workshop and was featured in ComedyCentral's satirical Lets Bowl! Audrey studied bouffon with Sue Morrison and Giovanni Fusetti, and has continued working and training in the form leading the year long weekly Bouffon Workout. Currently, she is in development on projects working in bouffon with young adults in the foster system and physically and mentally handicapped adults.
From Audrey: WTF is Bouffon? Cursed with the misfortune of a grotesque appearance, and compulsion to push the limits of decency and morality, you are deemed less than human. You are beaten and driven from your home. Outside of the village, you band together with other bouffon creating your own bizarre community. Forever tormented by the rejection, you are obsessed with the society from which you were unjustly cast, and spend your time observing the villagers, their hypocrisy, and personal private vices.    Once a year, foolishly, the villagers invite you and your friends back to the village for a festival, so they can secretly mock and ridicule your physical imperfections. Seeing the perfect opportunity to enact your revenge, you all offer to bring a show. Reveling in the perverse attention and using wit, parody and charm the you devise the most clever ways of slipping seeds of doubt, guilt and truth under the skin of the villagers, in hopes it will resurface later to destroy their precious society.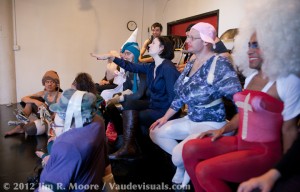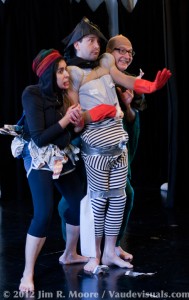 «