YOU FUCKING EARNED IT
Behind Every Great Citizen Is A Great Consumer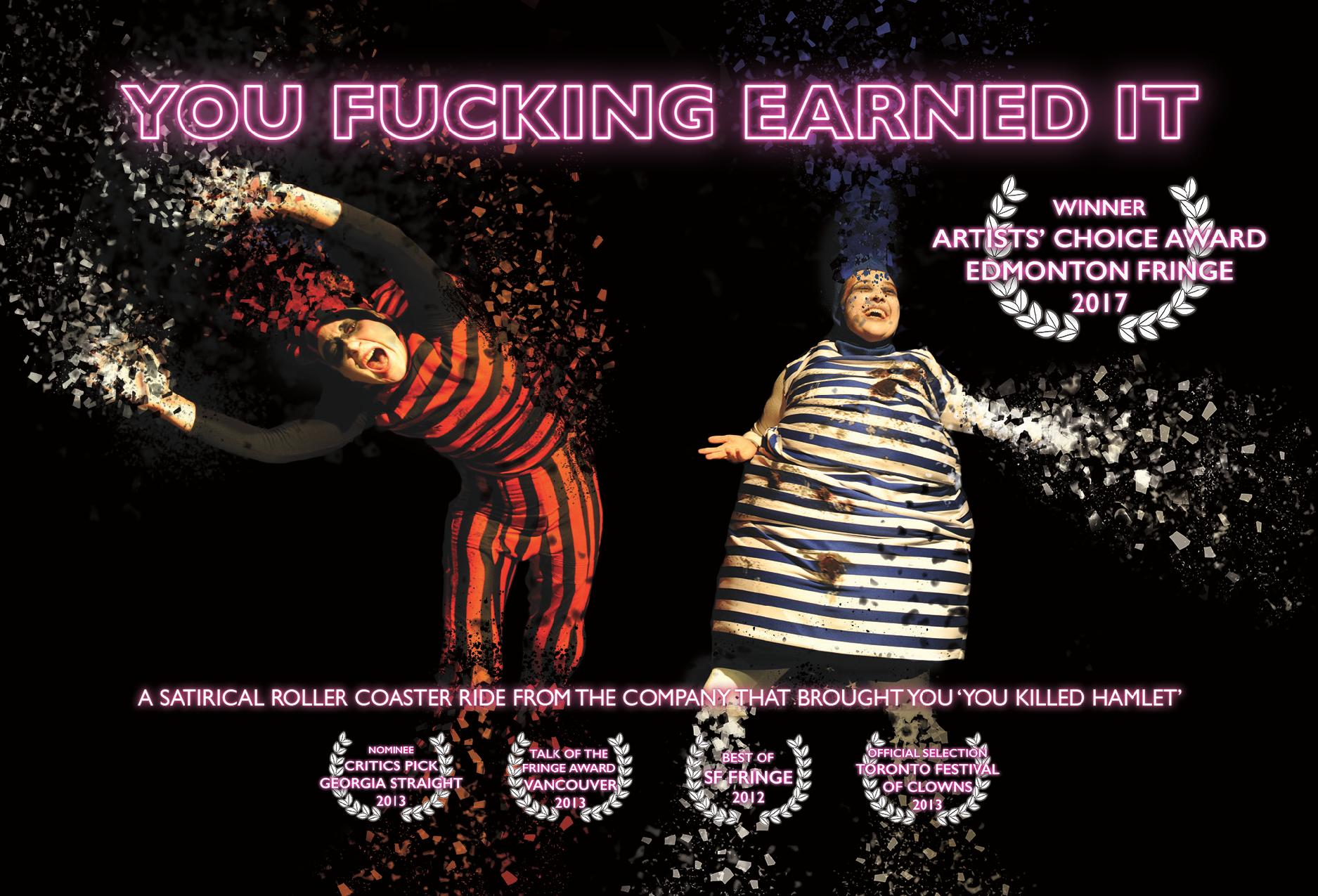 YOU FUCKING EARNED IT returns to San Francisco after its 2016 run at PianoFight and fresh off the heels of winning the prestigious Artists' Choice Award at the 2017 Edmonton International Fringe Festival. This epically satirical take down of America's economic imperialism is created by Naked Empire Bouffon Company, whose 2012 show, YOU KILLED HAMLET won Best of SF Fringe, the Vancouver Fringe's TALK OF THE FRINGE AWARD, as well as a nomination for Georgia Straight's CRITIC'S PICK. YOU FUCKING EARNED IT performs at the San Francisco Fringe Festival, September 8-23 at the EXIT Theatre.
In YOU FUCKING EARNED IT, Sabrina Wenske plays Lil Queef, a grotesquely pear-shaped creature in a wicked partnership with WeEvil, a humpbacked and wiry giggle monster played by Cara McClendon. Together they pull you into the joyous, jingle-filled depths of America's insatiable, industrious spirit. They revel in that rewarding feeling of stuffing every void in your life with the endless spoils of good old American resourcefulness. Stops on your journey include The Democratic Republic of the Congo, Guatemala, Indonesia, New York City, San Francisco, and your very own soul. These two disturbing anti-clowns shapeshift into sex slaves, orangutans, mountain ranges, gentrified city blocks, black holes, yoga moms, Stephen Hawking and more, all to celebrate you, the hardest working citizen-consumers in the world. Join us on our demented roller coaster of biting satire. You fucking earned it!
Based in San Francisco, Naked Empire Bouffon Company is North America's premier bouffon company, introducing audiences across the continent to new works and training intensives since 2009. Led by Artistic Director, Nathaniel Justiniano, the company uses this rarely seen form of highly-physical, image-driven satire to undermine apathy and inspire discourse.
Sabrina Wenske is a multi-award winning San Francisco-based theatre actor and deviser. As Naked Empire's program director, she mounted and performed in a two year series of original monthly shows called TOO SOON. She was head clown in the San Francisco Circus Center's recent production of GUILTY AS SIN. She has also performed in many devised ensemble works, including BEND THE RULES, EAT THE HEAD which won Best of the 2015 SF Fringe and Official Selection in Berkeley's inaugural BLAST Festival, and O BEST BELOVED by the Peripatetic Players, which won best of the 2013 SF Fringe.
Cara McClendon is an Oakland-based clown, bouffon and performer/deviser who has performed for audiences in classrooms, parks, in pre-schools, onstage, in hospitals, in prisons and in mental institutions around the world. In Santa Fe, New Mexico she was part of an all women's circus for four consecutive years and she has been a part of the FLYLadies company in which she co-devised and performed in an all-female version of LORD OF THE FLIES. In 2014, as part of the clown company Tiny & Tall, she co-wrote and performed in LOCKED UP, a non-speaking show about two clowns in prison that premiered at the New York Clown Theater Festival.  In 2014, as part of Patch Adams' organization Gesundheit, she was part of a group of humanitarian clowns that worked with a Peruvian sister organization, Bola Roja, in the Peruvian Amazon.
YOU FUCKING EARNED IT is produced by Naked Empire Bouffon Company
Playing at the 2017 San Francisco Fringe Festival
Co-Created and Directed by Nathaniel Justiniano
Co-Created and Performed by Cara McClendon and Sabrina Wenske
Dates:
Sat, Sep 9 @ 7:30pm
Thu, Sep 14 @ 8:30pm
Sat, Sep 16 @ 2:30pm
Sat, Sep 23 @ 5:30pm
$12 at the door / $14.99 online
Tix: sffringe.org/you
EXIT Theatre, 156 Eddy St. SF
Press Contact: Nathaniel Justiniano
Nathaniel@nakedempirebouffon.org
415.494.9299
Instagram: @nakedempirebouffon
Twitter: @nakdemprbouffon
FB: facebook.com/bouffonempire
###
CLICK ON THE IMAGES BELOW FOR DOWNLOADABLE HIGH RES VERSIONS
«