You Fucking Earned It has closed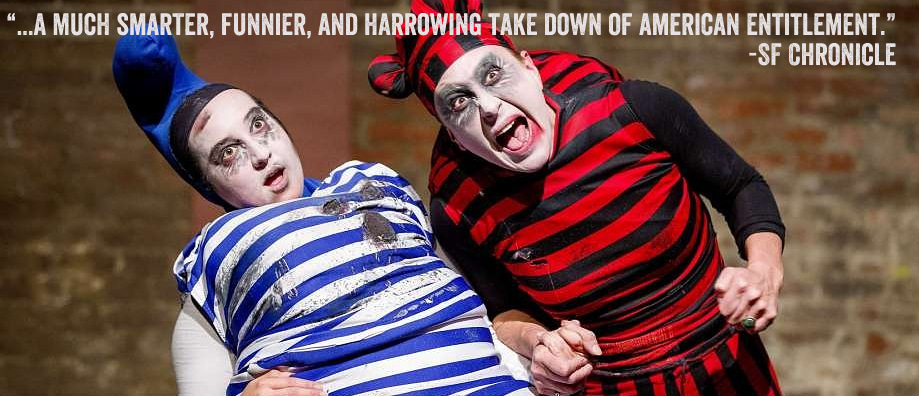 In YOU FUCKING EARNED IT, Sabrina Wenske plays Lil Queef, a grotesquely pear-shaped creature in a wicked partnership with WeEvil, a humpbacked and wiry giggle monster played by Cara McClendon. Together they pull you into the joyous, jingle-filled depths of America's insatiable, industrious spirit. They revel in that rewarding feeling of stuffing every void in your life with the endless spoils of good old American resourcefulness. Stops on your journey include The Democratic Republic of the Congo, Guatemala, Indonesia, New York City, San Francisco, and your very own soul. These two disturbing anti-clowns shapeshift into sex slaves, orangutans, mountain ranges, gentrified city blocks, black holes, yoga moms, Stephen Hawking and more, all to celebrate you, the hardest working citizen-consumers in the world. Join us on our demented roller coaster of biting satire. You fucking earned it!
You Fucking Earned It was directed by Artistic Director, Nathaniel Justiniano, and co-created by all three company members. The show initiated as a 12-minute performance called My Fellow 'Mericans for MOJO Theater's American Dream Cabaret in the summer of 2014, and then in 2015 it went on to win 3rd place in PianoFight's audience-judged play competition, ShortLived. You Fucking Earned It has been generously supported by grants from Theatre Bay Area, the SF Arts Commission, and the Puffin Foundation, along with two artist residencies at the San Francisco Circus Center and Drop Forge & Tool, in Hudson, New York. The full-length show enjoyed a three-week run at PianoFight in the fall of 2016, followed in 2017 by a run in the Edmonton International Fringe Festival where we received the prestigious Artists' Choice Award, and the San Francisco Fringe Festival where we received rave reviews, two SOLD OUT awards, and a Best of Fringe Award.
Scroll down to find reviews, a press page with downloadable images and press release, and more.
Gregory Scharpen hosts Arts in Review on KALX, 90.7 FM in Berkeley and he continues to invite us back to plug our work. Listen in as co-creator/performer, Cara McClendon talks to him about our run at the SF Fringe Festival.

Praise
Check out what folks are saying about the show.
Go Now!
Press Page
Get our press release, high-res pictures and more!
Go Now!
Imperialism, say what?
Take a look at some of the jaw-dropping research that inspired the content of our show.
Go Now!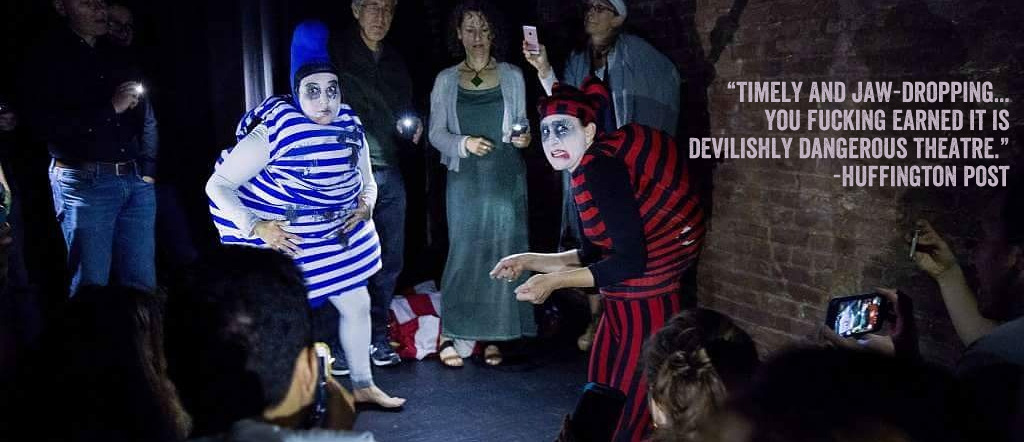 «