You Killed Hamlet, or Guilty Creatures Sitting At A Play has closed.
2 years. 2 countries. 6 venues. 7 reviews. 39 donors. 1200 spectators. May angels sing You Killed Hamlet to its rest.
TWO PROPHETIC PRANKSTERS play some disturbing games inspired by Hamlet's central theme: Coping with death. Shreds, a grotesquely emaciated freak, and Patches, a 350-pound jiggling juggernaut are linked by a state of infinite jest and interweave ecstatic ritual, parody, poetry, song, and extreme physical comedy into a fun-house mirror of the audience. Guerrilla/gorilla warfare, convalescent homes, school shootings, crying mothers, theatre audiences, religion, anti-depressants, avant-garde performance, medical research, and yes, Shakespeare's Hamlet all get a proper skewering in this evening of high-impact satirical sport. Scroll down to find reviews, a press page with downloadable images and press releases, and more.
Check out this interview we did as a preview for our final run in Montreal here.

CHECK OUT OUR TRAILER BELOW

Someone let us on live radio...twice.
Gregory Scharpen hosts Arts in Review on KALX, 90.7 FM in Berkeley and he's a total class act.   Nathaniel & Ross, however, chose to be pretentious schmucks back in May 2013. Enjoy.

Nathaniel was interviewed for a preview piece in November 2013 live on Montreal's CKUT-FM by the lovely Sarah Deshaies and Delicious Eric. Listen in.

"Naked Empire Bouffon Company deliver the goods in unexpected ways in You Killed Hamlet, or Guilty Creatures Sitting At A Play. It's vile and provocative, but it's also a very sly, smart commentary on a culture busily amusing itself as it slides off this mortal coil, too afraid to talk about serious things, and too busy dumbing itself down."
"Their acutely confrontational performance style makes the San Francisco Mime Troupe look like a bunch of old biddies gathering for afternoon tea. Nothing — neither death nor Hamlet — is sacred. It soon becomes apparent that Shreds and Patches may very well be the bastard love children of Beavis and Butt-head and Patsy and Edina (from Absolutely Fabulous). Highly recommended."
"The excellence of the piece lies in the [Bouffons'] ability to bring the high falutin subject matter down to its knees, only to raise it up again, somehow more reverently than ever before."
-Stuart Bousel, Co-founder of San Francisco Theater Pub and his very own line of annual theater awards, or Stueys. We won BEST FUSION THEATER PIECE.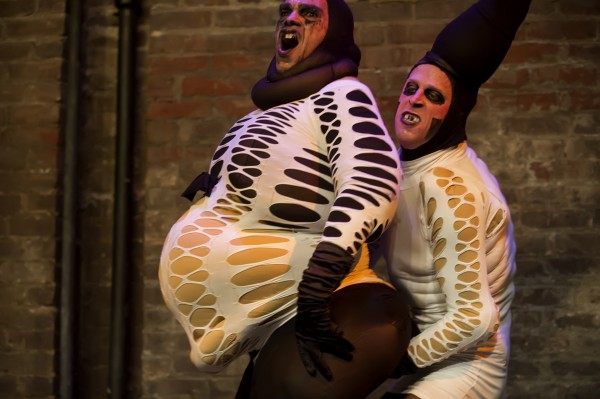 «